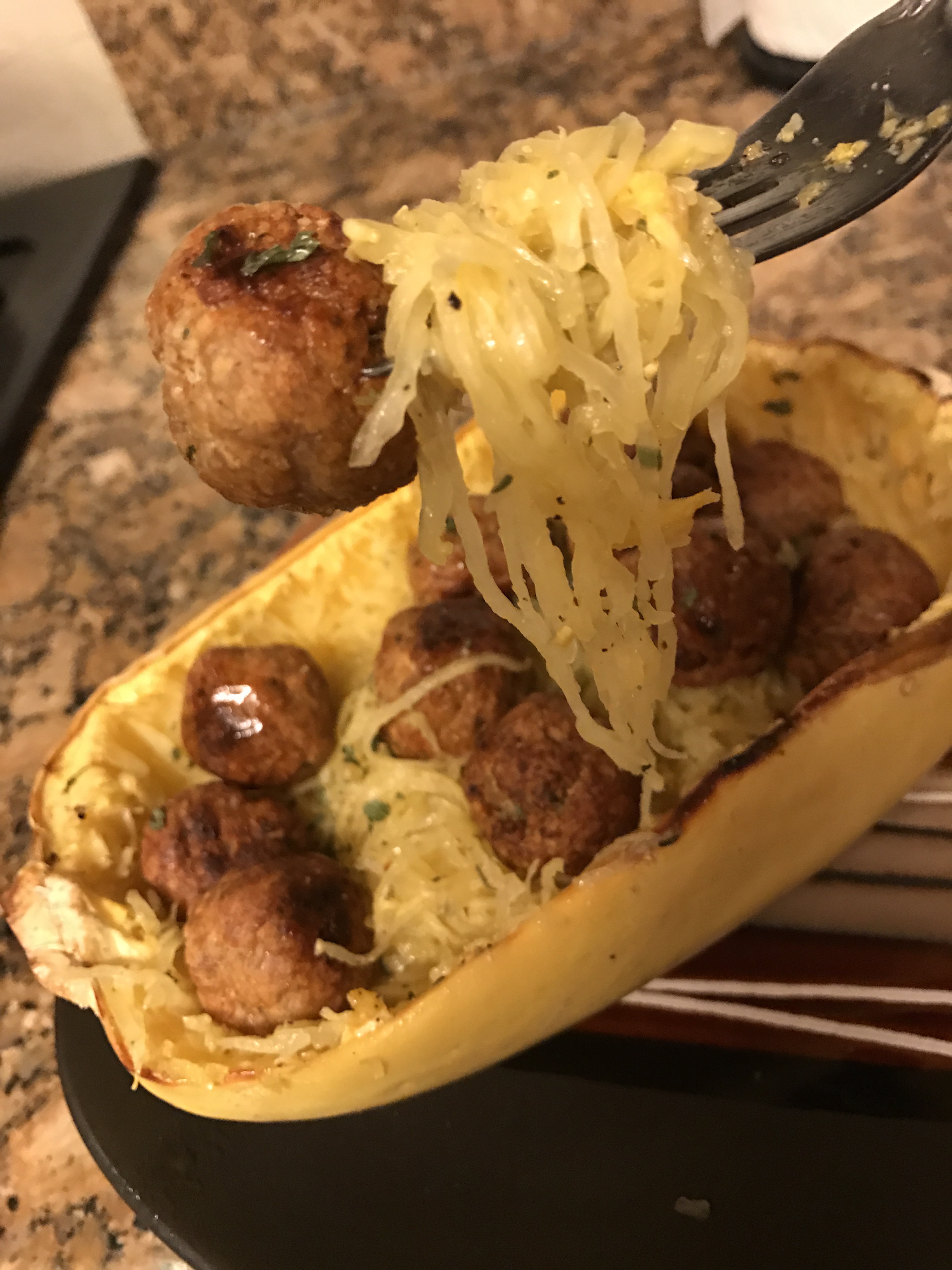 I tried spaghetti squash for the first time and I was not disappointed. I didn't have any expectations of it tasting 'just like spaghetti' or having the exact same texture. I went into the experience with an open mind, but no big expectations. I have to say, I was very pleased with my dish. 
Though, the spaghetti squash is what makes this dish, the Meatballs are pretty important too. So, I'm also going to tell you how I make my Meatballs.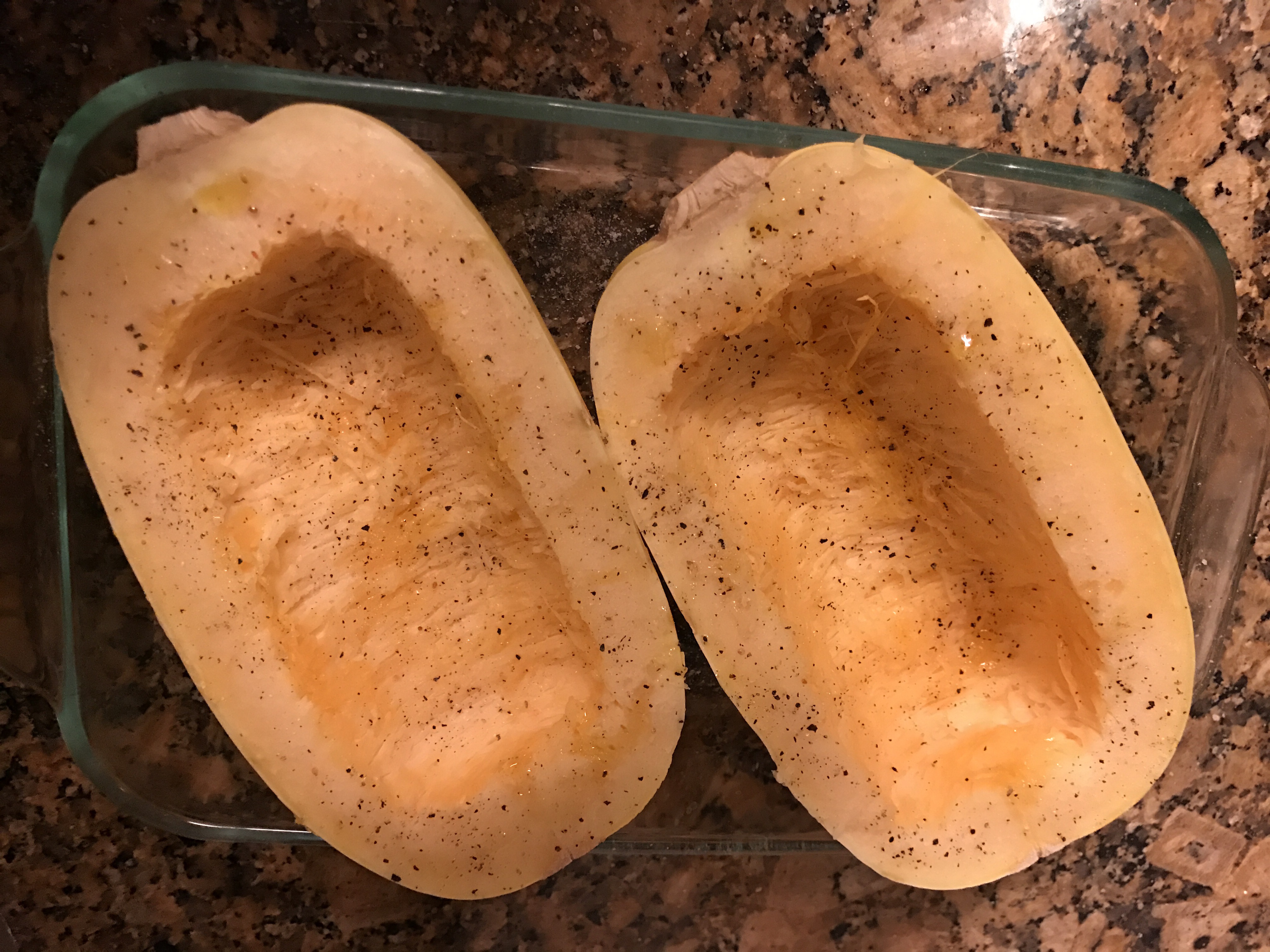 But I'll start with the squash.
You can look up a million different recipes on how to cook spaghetti squash. All of them are about the same, in temp and time: Preheat to 375° or 400°, for about 30-45 min, but there are different ideas for most everything else, including, how to cut the squash. I personally like the way mine turned out, so I'll continue doing it that way: I cut the squash in half length wise (obviously, you can see the pic 😜). There is also some conflicting advise as to whether or not to scoop out the seeds and such. I thought it made more sense to remove it, so the veg would have more of a chance to dry out a bit, and not be soggy. So, I scooped it out before cooking. I drizzled it with olive oil and seasoned with fresh cracked Himalayan sea salt and fresh cracked pepper. I cooked it face up (as you can see) and it turned out good, so that's the way I would suggest, 'cause it worked for me. 
Once the squash is tender, it's done. The next step is just to use a fork to, sort of, scrape the sides to get the spaghetti texture. The video I took wouldn't load, so I tried to capture one shot to show the angle I shredded: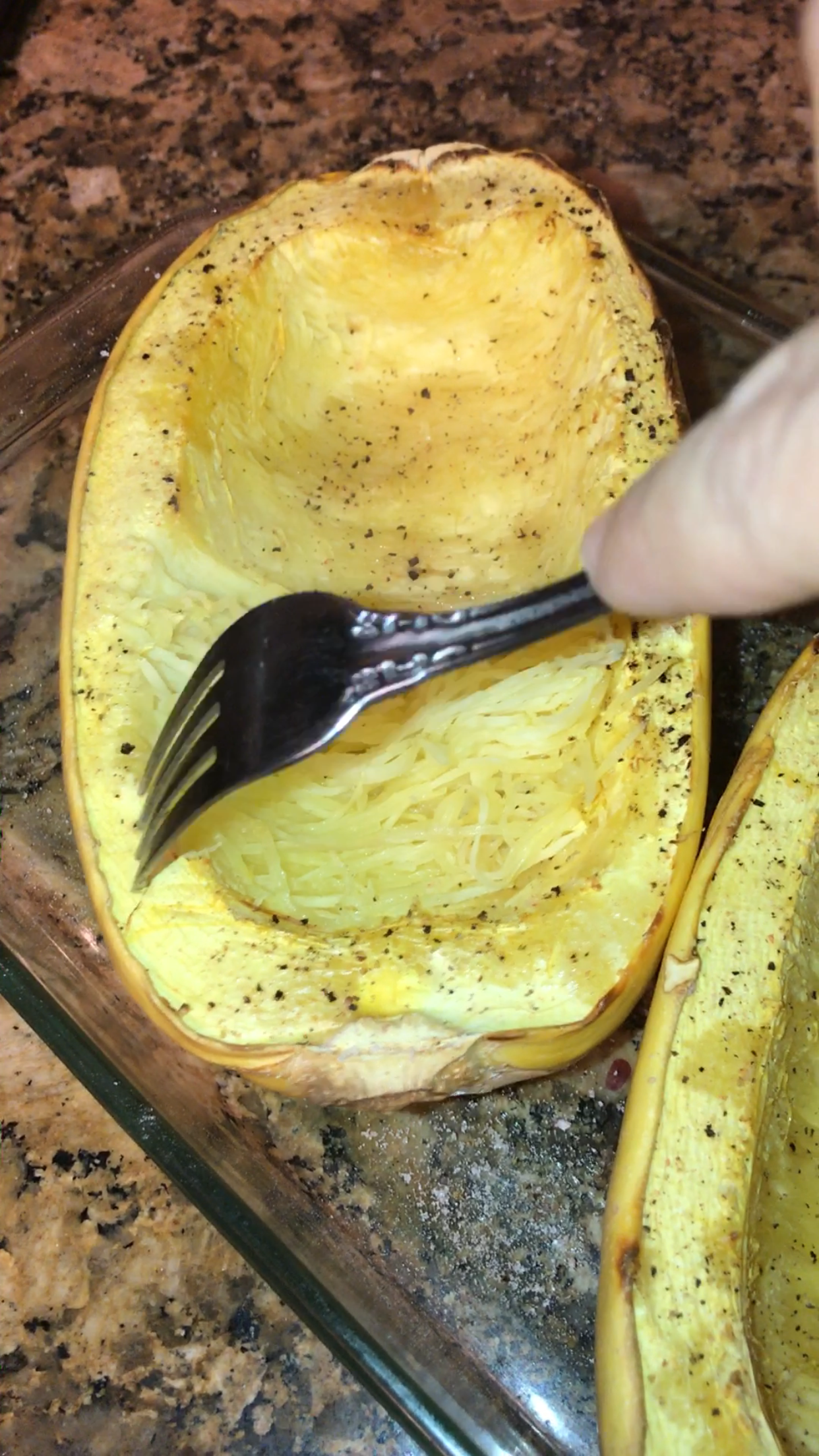 I'm not sure that this next step is necessary, however, my meal was fantastic, so I'm going to tell you exactly what I did: I "spaghetti-ed" one whole side of the squash and put it in a separate bowl that I lined with a doubled paper towel, and set it aside, while I worked on the meatballs.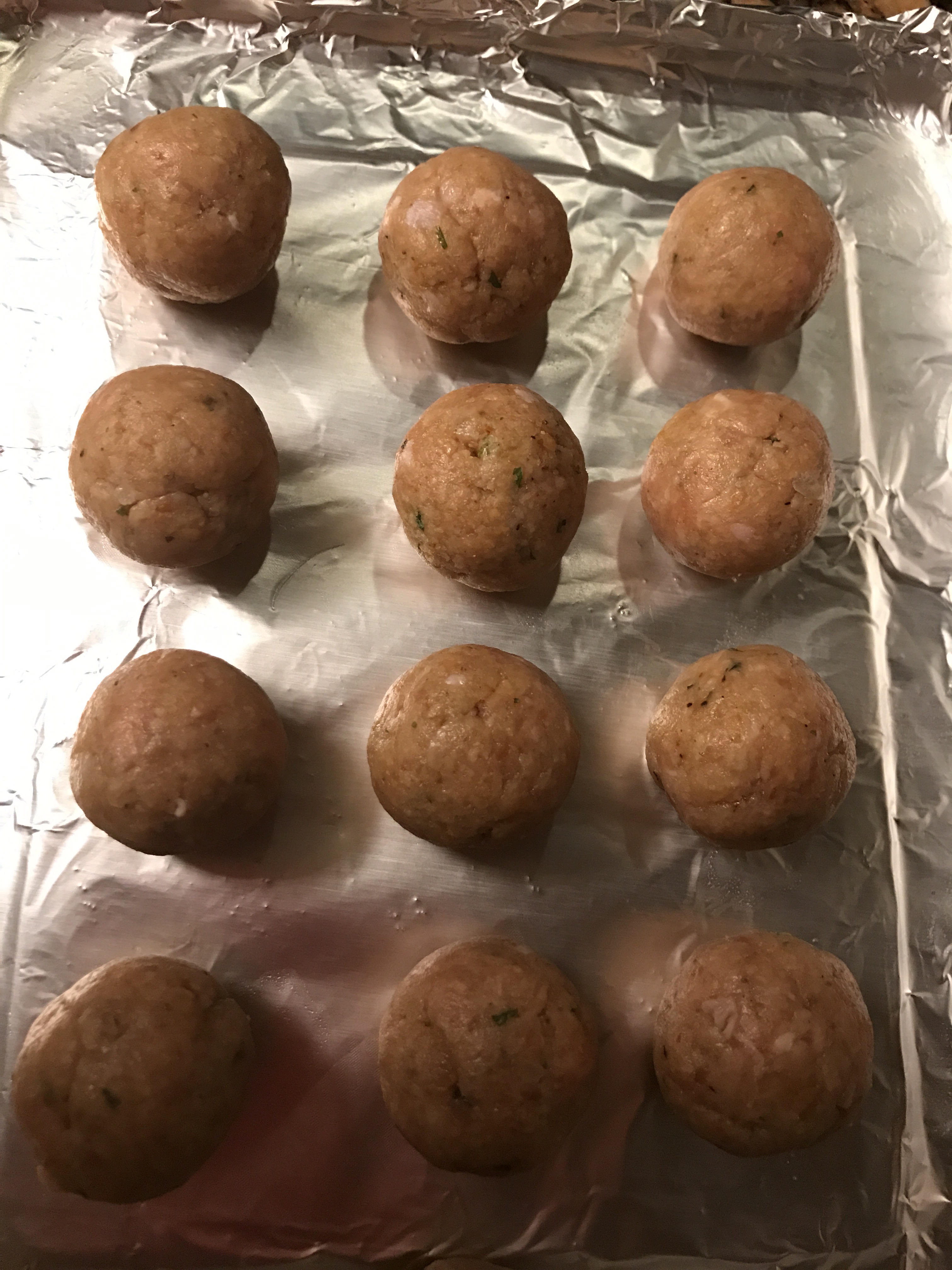 My Meatballs
*I left the oven on 400° for the Meatballs. Now, I'll apologize ahead of time for my lack of measurement, but I don't really measure. So these are just rough guesses. Please feel free to adjust according to your tastes. -Love garlic? Add more! Ya know?- So I start with 2lbs of Organic Ground Turkey. 93/7. I add about a cup, I think, of my favorite bread crumbs. They are "Italian Style". You could totally use plain bread crumbs, or I've even used crumbled crackers. You just might want to add a little more seasonings if you use plain (and add a little parsley). So the seasonings I use are pretty simple and if you've read any of my other blogs, you'll notice I use these spices for A LOT of things.
Onion Powder- 1/2- 1 tbsp
Garlic Powder- 1/2- 1 tbsp
Salt & pepper- to taste
Egg- 1 large egg ***see random Factoid for adjustment***
***Factoid: I have learned, through lots of cooking, that it makes a difference if you are cooking ground turkey that is fresh from the store/fridge, as opposed to ground turkey that you have frozen and thawed. I'm not going to claim to know the cellular structure that has changed, but I can tell you that if it has been frozen, it is going to be a lot more… um.. 'not dry'. (that's for any of you who hate the "M Word", like my sister-in-law 😂 Love you Jess 😘) So, if you are using ground turkey that has been frozen, you may want to start with just the egg white, or it's going to be too wet. If your mixture is too wet, and you can't make a decent, round meatball, then you will need to add more breadcrumbs.
Now, you want to add all ingredients, mix (You gotta use your hands for this), and roll into balls about 1 inch (maybe less) in diameter , I put them on a cookie sheet with non-stick foil, as I go, and then bake. I think I did 10 min and then turned them, and did 10 more. You can do bigger balls. You'll just need to adjust the time accordingly. (I like my Meatballs pretty firm and possibly considered over cooked, to other people, so this may be something you want to use your own judgement.)
Now we're getting close to dinner time… 😃
Once my Meatballs were done, I took the paper towel out of the bowl that I had the squash resting in. I put a decent amount of garlic powder (😬about 1/4 teaspoon? I'm not sure) a bit of parsley (mostly just for color), salt and pepper and drizzled with olive oil. Then I mixed it all together and put it in the microwave for just enough time to rewarm it. (If you don't have a micro, just throw it in a hot pan for just a min or two to warm it up.) Then I poured the "pasta" back into the vegetable shell, and put the Meatballs on top.
Done.
Then I enjoyed it! And boy did I enjoy it! A must try, for sure. I'll be making it again. No doubt.